Golden hour is a type of event photography taken during the hour before sunset or the hour after sunrise when the light is at its warmest and most golden. In essence, it is twilight over a stunning view like Port Phillip Bay. Golden hour offers professional and amateur photographers the chance to take stunning photos with beautiful light and unique colour tones. The warm light creates a softer look, and it's perfect for taking unmatched function and event pictures. During golden hour, event photographers can also use the long shadows created by the sun to create interesting compositions. There is nothing better than looking back at your Melbourne Wedding Venue beachfront photos or Corporate Event Function and seeing the rich colours of this amazing time of day at St Kilda Beach.
The warm light is also perfect for portraits, as it creates a softer look and emphasizes natural skin tones. The golden hour is a great time to capture beachfront events, as the light creates a more dramatic look with shadows and highlights that emphasize the beauty of the landscape. All of these factors make the golden hour one of the best times of the day to take photos at a Melbourne Function Centre with views. Choose an event venue with outstanding vistas and book at times that maximise your event photos. Your guests will look back at these for years to come.
Located footsteps from the beach with panoramic views of Porth Phillip Bay, Encore St Kilda is in prime position to take full advantage of the golden hour. The beauty of a St Kilda Beach event and sunset is truly breath taking as it sets across the water. Located on Melbourne's Port Phillip Bay, the area's stunning shoreline and beachfront event venue provides the perfect backdrop for a beautiful sunset.
St Kilda's sunset is a vibrant mix of orange, yellow and pink hues, creating a truly memorable and romantic experience for your ideal wedding venue or an outstanding corporate event or function. The soft, golden light illuminates the landscape and creates a tranquil atmosphere, making it a great location for event photography. For unsurpassed wedding venue on the beach, waterfront Corporate Function Venue or a 50th Birthday Party Venue, a St Kilda sunset over the water is sure to create lasting memories and beautiful photos.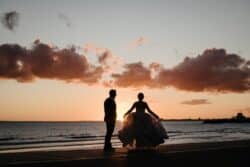 Our top tips for golden hour photography:
Timing is everything: Timing is key when it comes to capturing the perfect golden hour shot. Try to plan your event venue booking around the time of sunset for the best results.
Bring a flash: A flash can be helpful during golden hour, especially if you want to add some extra sparkle to your photos. Bring a small, lightweight flash, and use it to fill in any shadows or add a sparkle to the highlights.
Have a plan: Before your function venue booking, have an idea of the poses and shots you want to capture. This will help you stay organised and get the most out of your golden hour session.
Get creative: Don't be afraid to get creative with your golden hour event photos! Try out different angles, poses, or experiment with light.
Try a lens filter: A lens filter can help reduce glare and enhance the colours of the sunset. Invest in a good quality lens filter to get the best results from your Melbourne Function Photography.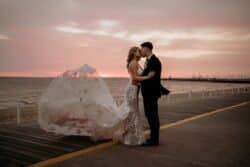 Check out our Photo Gallery for inspiration or Contact Us for a no-obligation tour of Melbourne's best beachfront function and event venue.